Join Jerry Cards Affiliate Program to Earn iTunes Gift Cards or CASH!
Thanks for your order from http://www.JerryCards.com, the best place to get US iTunes gift cards outside US.
Enjoy our service? Let your friends know and earn EXTRA money or iTunes credit! It is so easy to get iTunes gift cards from our site for international iTunes lovers like you! Not like other sites, our products are scans of real physical gift card from US retails stores. They are REAL and LEGITIMATE.
In summary, you will get 8% off the sales value referral by you (Ordered through your referral link). It is simple and easy, just set it up and post it on your website. The money will rolling in automatically.
Step 1
Click the link to setup a free e-junkie affiliate account (if you do not have one, the affiliate account is free).Your balance and other details will be tracked automatically in the account.
Step 2
After login to your new ejunkie accout, you should click the second tab on the top right screen (Sellers, Affiliates, Shop and Community), the affiliate account. Then, affiliate admin, get affilicate code, the following screen show appears:

Step 3
Click the button GET AFFILIATE CODE: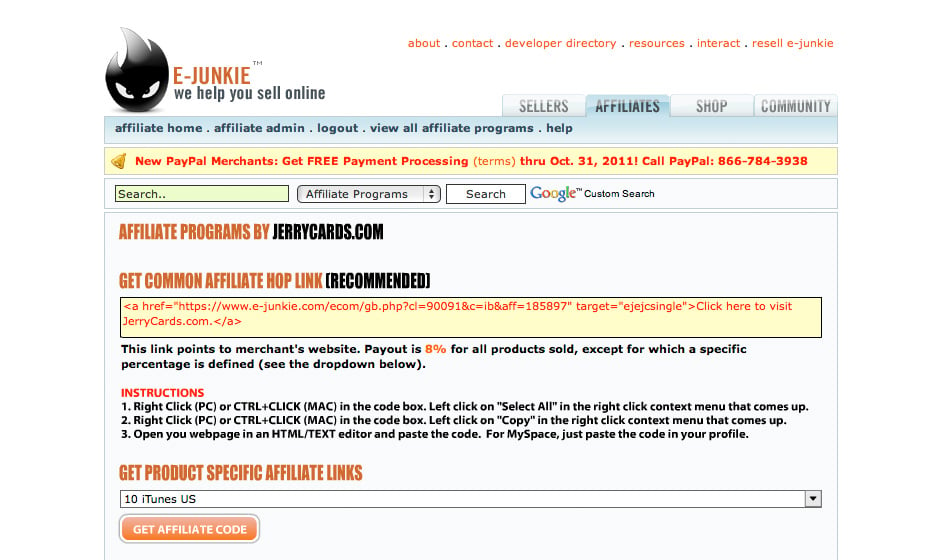 Step 4
You link will be unique to you (will be different from the picture). Just copy and past the code and forward it in email, post it on your website, blog, facebook, twitter or anywhere people can see. Anyone click the link and order within six month, you will get 8% of the sale value.
Step 5
$5.6 for $60 card ($69.99) $4.8 for $50 card ($59.99) and so on.